What are smart motorways and why did the government scrap them?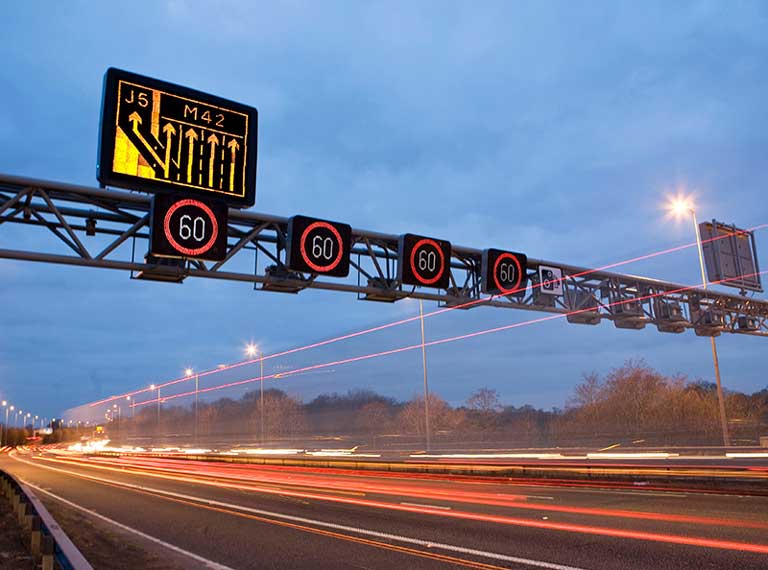 The implementation of smart motorways has long been a controversial issue, since the Department for Transport halted the expansion of all-lane-running (ALR) systems due to escalating safety concerns the UK government has now taken the decision to halt all new smart motorways construction. Nonetheless, there are already several miles of smart motorway in operation throughout the United Kingdom, making it crucial for drivers and riders to become proficient in navigating them.
As expected, drivers have numerous inquiries about these modern motorways, such as their purpose, proper usage, and protocol for breakdowns, as well as inquiries about their safety and the potential fines for violating the rules.
We have compiled responses to many of these questions to provide drivers with a safer and more efficient driving experience. Please feel free to contribute to the discussion by sharing your own experiences with smart motorways.
What is a smart motorway?
In usually congested areas, a smart motorway is a segment of a motorway that employs traffic management techniques to improve capacity and decrease traffic congestion.
These techniques involve converting the hard shoulder into a traffic lane and implementing variable speed limits to regulate traffic flow.
Smart motorways were created by Highways England (previously known as the Highways Agency) to manage traffic in a manner that minimises environmental impact, construction expenses, and time, by eliminating the necessity for extra lanes.
There are three types of smart motorways schemes.
'All lane running' schemes
All lane running schemes are smart motorways that permanently eliminate the hard shoulder and transform it into a running lane, only closing lane one in the event of an incident signalled by a red X on overhead gantries or verge-mounted signs. Mandatory speed limits are displayed through signage and enforced by speed cameras, but sudden changes can be dangerous for drivers who must remain alert and respond quickly. CCTV is used to monitor traffic for incidents, and emergency refuge areas (ERAs) are available for drivers to use in case of breakdowns or accidents. However, ERAs are spaced further apart than in dynamic hard shoulder sections, leading the RAC to call for more ERAs closer together and radar technology to detect stricken vehicles in live lanes.
'Dynamic hard shoulder' schemes
Dynamic hard shoulder running allows the hard shoulder to be used as a running lane during busy periods, with a solid white line distinguishing it from the carriageway and overhead gantries indicating whether it is open to traffic. Signs over the hard shoulder are blank or display a red X when it must not be used, except for emergencies. Mandatory speed limits are displayed on gantries, enforced by speed cameras, and sudden changes have been a concern for drivers. CCTV is used to monitor incidents, and emergency refuge areas are available for breakdowns or accidents.
Controlled motorway schemes
Controlled motorways have three or more lanes with variable speed limits and a traditional hard shoulder that should only be used in an emergency. Overhead gantry signs display variable speed limits which are enforced by speed cameras. Drivers have expressed concerns about sudden speed limit changes, but Highways England has stated there is a slight delay before cameras start enforcing new limits to allow drivers to adjust their speed. However, drivers should remain alert and respond to variable speed limits promptly and safely.
Are smart motorways dangerous?
There are many reasons why smart motorways can be dangerous such as:
Lack of Hard Shoulder: Some smart motorways do not have a permanent hard shoulder which means that drivers do not have a safe place to stop in the event of an emergency.
Driver Complacency: When a hard shoulder is not present, some drivers may become complacent and continue to drive even when they are experiencing car trouble or are involved in an accident.
Confusing Signage: Some drivers may find the signage on smart motorways confusing, especially when it comes to variable speed limits and the use of the hard shoulder.
Increased Risk of Collisions: The removal of hard shoulders and the use of variable speed limits can increase the risk of collisions on smart motorways.



However, it is worth noting that Highways England, the body responsible for managing motorways in England, has previously stated that smart motorways are safe when used correctly and that they have implemented measures to reduce the risks associated with them. It is important for drivers to remain vigilant and follow the rules and guidelines when driving on smart motorways to ensure their safety.




Another concern with smart motorways is the spacing and availability of emergency refuge areas (ERAs). In the case of "All Lane Running" schemes, the hard shoulder is permanently converted into a traffic lane, and ERAs are placed less frequently than on traditional motorways. This means that if a vehicle breaks down or is involved in an accident, there may not be a safe place to stop, putting the driver and passengers at risk.




Furthermore, in case of an incident or an emergency, the time it takes for help to arrive may be longer on smart motorways, as there is no hard shoulder for emergency services to use. Instead, they must navigate through live lanes of traffic to reach the scene, which can be a hazardous process.




Another issue is the implementation of variable speed limits. Drivers have reported sudden changes in speed limits causing confusion and resulting in collisions. While Highways England has clarified that there is a slight lag between when the speed limit is changed and when the cameras start enforcing it, some drivers may not be aware of this and may react abruptly to the new speed limit.




In summary, while smart motorways have been introduced to help manage traffic flow and reduce congestion, there are concerns about their safety, particularly regarding the removal of the hard shoulder and the availability of emergency refuge areas.




What did the government say about smart motorways scrapping?




plans for new smart motorways will be cancelled in recognition of the current lack of public confidence felt by drivers and cost pressures
smart motorways earmarked for construction during the third Road Investment Strategy (2025 to 2030) and previously paused schemes will now not go ahead
existing smart motorways will continue to benefit from £900 million safety improvements



How to stay safe on a smart motorway




A solid white line indicates the hard shoulder - never drive in it unless directed
Observe the overhead gantry signs: Pay attention to the variable message signs (VMS) on the overhead gantries that indicate the speed limit and lane closures. If the sign shows a red X, do not drive in that lane.
Only use the hard shoulder in an emergency: Do not use the hard shoulder unless there is an emergency. If your vehicle breaks down or you're involved in an accident, move onto the hard shoulder, activate your hazard warning lights and call for help immediately.
Keep to the speed limit: Follow the speed limit displayed on the overhead gantry signs, as these are in place to manage traffic flow and reduce congestion.
Be aware of other vehicles: Always be alert and aware of other vehicles on the road. Be prepared to adjust your speed or position to avoid collisions.
Use the refuge areas: Use the emergency refuge areas, if you're unable to make it to the next exit or the hard shoulder. These areas are marked and provide a safe place to stop in an emergency.
Stay focused and avoid distractions: As always whilst driving, Do not use your mobile phone or any other device. Stay focused on the road and be prepared to respond to any changes in traffic conditions.
Keep a safe distance: Maintain a safe distance from the vehicle in front of you. This will give you more time to react in case of an emergency or sudden changes in traffic conditions.



Where are the UK's smart motorways?




There are many already constructed sections of smart motorway within the UK.




All Lane Running
Dynamic Hard Shoulder
Controlled Motorway
M1
J16 to J13 (formerly under construction)
J19 to J16
J24 to J25
J28 to J31
J32 to J35a
J39 to J42
J10 to J13
J6a to J10
J23a to 24
J25 to J28
J31 to J32
M3
J2 to 4a
M4
J3 to J12 (formerly under construction)
J19 to J20
M5
J4 to J6
J15 to J17
M6
J2 to J4 (formerly under construction)
J10a to J13
J13 to J15 (formerly under construction)
J16 to J19
J4 to J10a
J10a to J11a
M20
J3 to J5 (formerly under construction)
J4 to J7
M23
J8 to J10
M25
J5 to J6/7
J23 to J27
M26
M27
J4 to J11 (formerly under construction)
M40
M42
J7 to J9
M60
J8 to J18
M62
J10 to J12 (formerly under construction)
J18 to J20
J25 to J26
J23 to J30
J28 to J29


Are you safe at work? Find out the top 5 health risks at work