The Construction Inclusion Coalition: Pioneering Diversity and Inclusion in the Construction Sector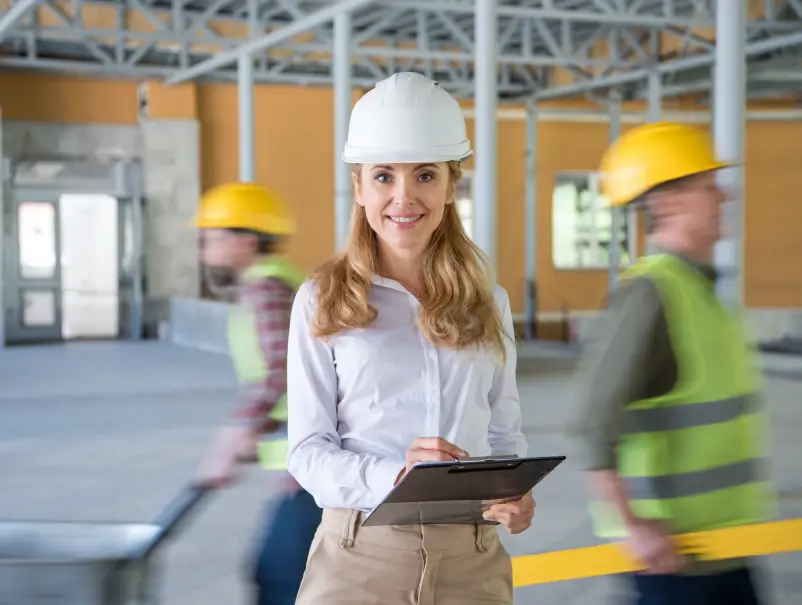 In an era marked by social progress and a growing emphasis on inclusivity, the construction industry is taking monumental steps towards fostering equality, diversity, and inclusion. Twelve prominent construction organisations have joined forces to launch the Construction Inclusion Coalition (CIC), a groundbreaking initiative dedicated to addressing the long-standing diversity challenges in the sector. In this article, we delve into the mission, goals, and significance of CIC, highlighting its pivotal role in reshaping the construction landscape.
A Unified Effort for Change
The Construction Inclusion Coalition (CIC) represents a formidable alliance of influential construction entities committed to driving transformative change within the industry. Spearheaded by the visionary leadership of its chief executive officers, the CIC has set a compelling agenda: to enhance gender representation within the construction workforce.
A Critical Issue: Gender Imbalance
At present, the construction sector in the United Kingdom faces a stark gender imbalance, with women constituting a mere 15% of the workforce. This disparity is a source of concern, not only for those already working in the industry but also for their friends and family. Recent polls have revealed that only a third of Britons feel confident that their female loved ones would be safe and respected if they pursued careers in construction.
The Need for Change
The urgency for change becomes even more apparent when considering that just 6% of the workforce in construction hails from ethnic minority backgrounds. Additionally, with nearly a third of the industry's workforce expected to retire in the next decade, the need to attract new talent has never been more critical.
A Positive Shift in Perception
The Construction Inclusion Coalition recognises that the industry must undergo a profound transformation to reverse these disheartening statistics. A survey of 2,000 people demonstrated that 46% of respondents would be more inclined to seek employment in construction if it demonstrated a stronger commitment to inclusion. This shift in perception underscores the immense potential of CIC's mission to revitalise the sector.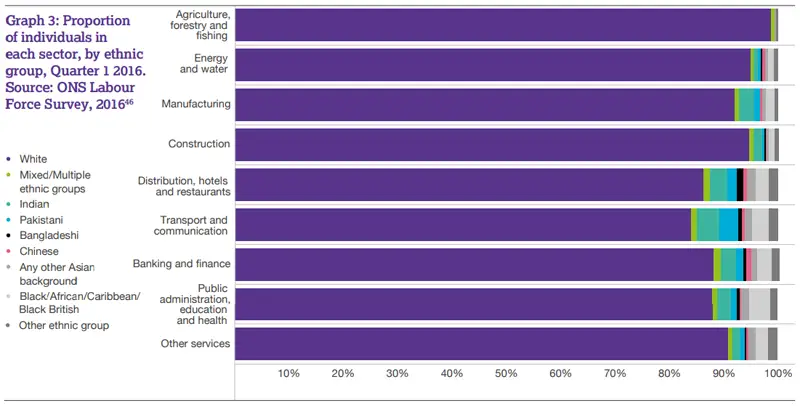 Image from the McGregor Smith review, showing the disparity in minority distribution across UK sectors in 2016.
Coalition Membership: A Force for Change
The strength of the Construction Inclusion Coalition lies in its diverse membership, which includes industry leaders such as Aliaxis, Baxi, Bradfords, City Plumbing, Highbourne Group, Ibstock, Knauf, Travis Perkins, Wavin, Wolseley, the Builders Merchants Federation (BMF), and the National Merchant Buying Society (NMBS). This collective effort ensures a broad spectrum of perspectives and expertise, creating a robust foundation for change.
Voices from Within
Isabella Walsh, a manufacturing management trainee at Ibstock, offers an inspiring testament to the industry's potential for transformation. She shared her personal journey, saying, "I totally understand other women's concerns about working in construction – I had them myself before I joined as a Trainee Manufacturing Manager. But my colleagues have been so welcoming, many are now good friends. Although things have changed for the better in the last few years, we need businesses in construction to come together to accelerate this change, which is why I think the Construction Inclusion Coalition is so important."
Endorsement by Construction Leadership Council
The significance of CIC's mission extends beyond its member organisations; it has earned the endorsement of the Construction Leadership Council (CLC). Mark Reynolds, co-chair of the CLC and chief executive of Mace, affirmed the importance of this initiative, stating, "It is clear that ensuring a consistent approach to equity, diversity, and inclusion will be vital for the future of construction, which is why we're pleased to support the Construction Inclusion Coalition. There is much work to be done; however, I am confident that by sharing knowledge and raising standards, we can make a meaningful impact across the sector."
Recruitment Agencies: A Crucial Link in Fostering Inclusion
While the Construction Inclusion Coalition focuses on systemic change within construction organisations, the role of recruitment agencies in promoting diversity and inclusion cannot be underestimated. Agencies such as RecruitEasy serve as crucial intermediaries between job seekers and construction companies. To ensure a more inclusive workforce, recruitment agencies must adopt practices that are unbiased and supportive of diversity.
Eliminating Bias in Recruitment
Blind Recruitment: One of the most effective ways to eliminate bias in the recruitment process is by implementing blind recruitment. This approach involves removing any information from job applications that could reveal a candidate's gender, ethnicity, or other potentially bias-inducing factors. By focusing solely on qualifications and experience, blind recruitment ensures that candidates are evaluated based on their merit.
Diverse Interview Panels: Recruitment agencies should encourage construction companies to form interview panels that reflect diversity. A diverse panel not only helps in fair assessment but also sends a strong message of inclusivity to potential hires.
Training and Awareness: Providing training to recruitment professionals on unconscious bias and diversity can be instrumental in reducing discriminatory practices. Awareness of biases is the first step toward mitigating them.
Proactive Outreach
Recruitment agencies can also play a proactive role in promoting diversity and inclusion by actively seeking out candidates from underrepresented groups. This can be achieved through partnerships with organisations that focus on diverse talent pools, attending job fairs and events that target minority candidates, and leveraging social media platforms to reach a broader audience.
The Construction Inclusion Coalition is leading the charge in reshaping the construction industry to be more diverse and inclusive. However, achieving these goals requires a multifaceted approach, and recruitment agencies are a critical part of the equation. By adopting unbiased practices and actively seeking out diverse talent, recruitment agencies can contribute significantly to building a construction industry that embraces equality, diversity, and inclusion at every level.
Join us in supporting the Construction Inclusion Coalition and the recruitment agencies like RecruitEasy that are pioneering positive change in the construction sector. Together, we can build a more diverse and inclusive future for all.
Find workers through an inclusive recruitment agency