The Top Five Health Risks At Work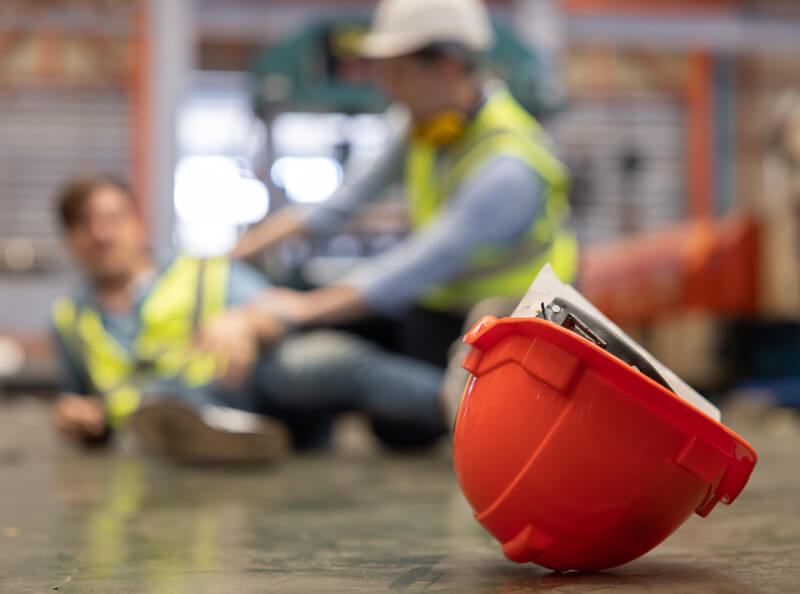 The Health and Safety Executive (HSE) has revealed that work-related ill health is responsible for 32.5 million working days lost annually, and the number of workers suffering from it is increasing. The HSE's statistics showed that in 2020/21, 1.7 million workers suffered from work-related ill health, a rise of 300,000 people since 2017/18. The majority of work-related deaths arise from health problems, with 13,000 deaths each year estimated to be linked to past exposure at work.
Here are the top five health risks at work:
Asbestos - The HSE estimates that there are around 5,000 asbestos-related deaths each year in the UK, with the naturally occurring material still found in hundreds of thousands of buildings. This is a health risk that affects not only construction workers but anyone who may come into contact with it.
Mental Health - Work-related mental health issues such as stress, depression or anxiety contributed to the loss of 17.9 million working days in 2019/20. This number looks to be increasing, with 451,000 workers suffering from new cases in 2020/21.
Manual Handling - Almost half a million workers were affected by musculoskeletal disorders, with manual handling being the biggest contributor. Improper lifting and carrying of heavy or bulky objects can cause stress and strain on the body.
Silica Dust - This health risk primarily affects construction workers, with around 17% of occupational cancer cases attributed to past exposure to silica dust. This material can be found in many construction materials, including concrete, limestone, granite, slate, and brick.
Noise - Around 17,000 workers suffer from work-related hearing problems, with excessive noise being the most common cause. This can cause permanent hearing damage and loss.
These health risks are a major contributor to work-related ill health, resulting in significant working days lost, and businesses need to take them seriously to prevent harm to their employees.
What other major health issues can you get from working in adverse conditions?
Hand Arm Vibration Syndrome (HAVS)
Hand Arm Vibration Syndrome (HAVS) is a condition caused by prolonged use of vibrating hand-held machinery. It can cause painful and disabling disorders of the blood vessels, nerves, and joints. And, like other conditions on this list, it can take years to develop.1900 new cases of HAVS were reported in 20/21.
HSE Summary statistics for Great Britain 2021 pg.4
Workers in construction, engineering, and manufacturing are most at risk. But any worker using vibrating tools is at risk.
You might think that these conditions only affect those in manual jobs, but that's not the case. Teachers, office workers, and those in the service industry can all be at risk of developing a work-related condition.
Why is it important to know about work-related health risks?
Preventing accidents is important, but so is preventing work-related health conditions. Every employer has a legal duty to protect their employees' health and safety.
Failing to manage health risks at work can lead to employees suffering from long-term health conditions, pain, and suffering. It can also lead to absences and reduced productivity, and even early retirement. In turn, this can impact businesses financially, and damage their reputation.
So, it's important to recognize that health and safety at work isn't just about preventing accidents. It's also about preventing long-term health conditions that can have a serious impact on employees' lives.
Noise-Induced Hearing Loss (NIHL)
Noise-induced hearing loss (NIHL) is the last item on our list but it's still a significant risk, particularly for those working in noisy industries like construction, manufacturing, and entertainment.
According to HSE statistics, there are approximately 17,000 people in the UK suffering from deafness, tinnitus, or other hearing-related conditions caused by exposure to excessive noise at work. And, it's not just the immediate effects of noise - the damage can be cumulative and irreversible.
The Control of Noise at Work Regulations 2005 requires employers to take action to protect their workers' hearing. This can include providing hearing protection and controlling noise exposure through engineering solutions or changing work practices.
Conclusion
The top 5 health risks at work highlight the importance of not only focusing on safety but also the health of employees. Work-related ill health can have a significant impact on both individuals and businesses, resulting in lost productivity, increased healthcare costs, and reduced quality of life for affected workers.
Employers need to take steps to identify and manage these health risks, including providing training and education, implementing policies and procedures to reduce exposure, and promoting a culture of health and wellbeing in the workplace. By doing so, they can help to protect the health and safety of their employees and ensure a healthier, happier, and more productive workforce.