Labour shortages biggest fear for UK Construction in 2023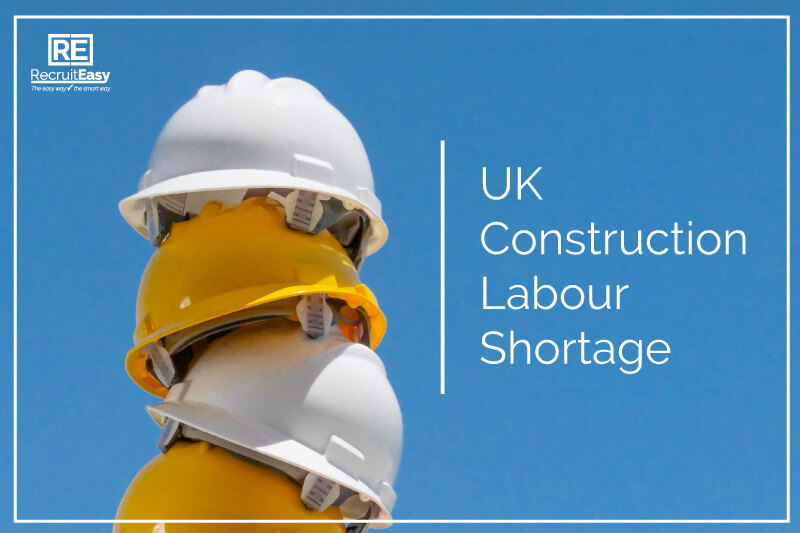 Employers within the construction sector are likely to face starker choices than in 2022 as skills and labour shortages continue to bite more than ever in 2023 and expected to continue into 2024.
With the Covid pandemic over 2020-2022 coming on top of Brexit mobility of labour issues, combining with the UK's chronic skills shortage problem worsening in 2022, building firms and other employers could leave themselves vulnerable to severe labour shortages – unless they plan ahead.
Those who do take measures will have some cause for optimism this year and next. Pro-active companies that establish relationships with experienced recruitment and staffing agencies can keep flexibility in their labour management, boost their performance substantially and stay ahead of their competitors.
How should you minimise the impact of these labour shortages?
Luke Davis, director at specialist construction recruitment firm Recruiteasy, said:
"Construction firms can minimise the coming pain by getting ahead of the game now.
Both public and private sector business would be well advised to plan ahead and set out their strategies to deal with the oncoming staffing, skills and labour shortage."
Construction employs about 3 million people and its output in the UK accounts for more than £125 billion or 10% per annum contribution to GDP. Approximately a quarter of construction output is public sector and three-quarters is private sector.
Mr Davis added:
"At Recruiteasy, we are further boosting our larger database of skilled and semi-skilled workers. This includes plant operators, bricklayers, labourers, groundworkers, all construction trades and labour in fact.
Those in the private sector in particular, who have the forethought to engage an experienced recruitment firm, will gain a significant competitive advantage. It will give them a ready-made workforce with rapid and flexible access to this vital human resource."
It is predicted that labour shortages will worsen substantially as the recovery gets under way. Many industry leaders have continued to urge government to act quickly to prevent the economy from stalling.
Construction has recently rightly been lauded by government and the Prime Minister as central and vital to the UK's recovery.
But action to enable easy access to labour from the EU and other area has not been forthcoming. The sector did welcome a statement from Susan Williams, a Lords minister, who said that the Shortage Occupation List (SOL), which makes it easier for some foreign workers to secure a UK visa, could include more construction roles.
Ms Williams said:
"We will see how the UK labour market develops in the post-COVID era."
However, she added:
"We do not consider changes to the UK immigration rules or the SOL should be made at this time, before assessing how the UK labour market develops post-COVID-19 and in response to the introduction of the new points-based immigration system."
However, by March 2023, the government has failed to act and it looks unlikely that it will.
Recruiteasy's Mr Davis warned that with the government not really serious at all about addressing this problem and is simply banking on a surplus of workers on the market from other sectors, such as retail, to help stem some labour shortages in construction.
He said:
"It would be a huge mistake to think this is a solution. It is not. Construction firms demand experience and a high level of proficiency. We cannot simply take former retail staff and overnight make them into time-served construction tradesmen.
The government must enable easy access to such experienced workers, who are on our international doorstep, to keep the growth in housebuilding and infrastructure going.
Firms can help themselves of course by turning to agencies such as ours that have a pool of long established and qualified workers already on their books"
The warning was echoed by Douglas McCormick, the UK executive chairman of Gleeds, who said:
"They must keep an open mind as a shortage of talent will inevitably mean heightened labour rates which are likely to impact the cost of projects from HS2 to housing,
I'm pleased that the government appears to be prepared to review the issue of UK immigration rules and their potential detrimental impact on those working in the built environment."
The Gleeds survey comes after research published by the Construction Products Association found that the sector's EU workforce had plummeted by almost a third in just 12 months which combined with a surge in demand, has created a big squeeze on labour.
Other data from the Office for National Statistics revealed that more than one in four EU-born construction workers had left the industry between September 2019 and September 2020 and this did not significantly rectify over 2021 and 2022. With the over 50s taking early retirement or otherwise choosing to becoming economically inactive for personal or for health reasons, the problem grew even more. To combat this, the government has recently launched a programme to help the over 50s return to work.
The UK Construction Purchasing Managers Index (PMI) released on 7ᵗʰ January 2022 showed the sector facing challenges from labour and supply shortages, as well as from the spread of the Covid-19 Omicron variant.
The availability of labour is now the number one issue within the UK construction sector, with wages continuing to rise. Staff mobility is high as people look for the best pay packets, causing further disruption.
New research by recruitment specialist, Search Consultancy, into the extent of the skills shortage has found that 83% of businesses within the construction industry are currently feeling the strain from a lack of skilled workers.
It also added that, on average, businesses in the industry are 22% understaffed with the average lead time to hire a suitable candidate standing at just below four months.
Search Consultancy's research also looked into the root causes of the skills shortage and the impact on businesses within the construction industry.
36% of respondents say that the lack of qualified candidates is the main and simple contributing factor. A further 25% of managers cite an inability to retain staff as a major issue and 25% list Brexit is a key contributing factor.
Larger builders have fared better by being able to use their scale and bargaining power. But small and medium-sized developers have had far bigger challenges say industry experts.
Have wages risen due to the worker shortage?
Wages have risen about 6 per cent as a result of a shortage of skilled tradespeople, including carpenters, groundworkers, bricklayers, plasterers and plant operators in the wake of Brexit and exacerbated by the pandemic, according to figures from the Department for Business, Energy and Industrial Strategy.
Rebecca Dacre, partner at consultancy Mazars, said: "Building contractors are being hit from all sides. Supply chain chaos, spiralling inflation and a vanishing pool of workers are combining to ramp up the financial pressure on them. For some the burden is too much and this is pushing them under."
Record numbers of construction firms are collapsing with an average of 266 businesses per month going under in the three months to October 2021, the largest number since before the pandemic and a 29 per cent rise on the previous period. Fears of labour and material shortages are also causing certain decisions to be deferred, however, overall confidence remains high and work continues to flow for most during the early stages of 2022.
There are signs that the supply chain crisis is easing. Firms have noticed small improvements in the availability of supplies and the rate of material price increases may have peaked.
Home buyers and owners also seem to remain unperturbed by the recent 0.15% increase in the Bank of England base rate as most are either already on or will go on to fixed rate mortgages.
What is the solution to the worker shortage?
Manny Hussain, Managing Director of specialist recruitment construction firm RecruitEasy, has remained an optimist and said:
"Although we have had to work extremely hard to find the skilled workers demanded by our clients, we've still managed to increase our worker database – despite the pandemic and other challenges presented to us.
We've dug deep in retaining and increasing our base, particularly as regions like ours in the Southwest suffered from losing many of our workers due to the national construction worker shortage.
This did hit the regions as it caused somewhat of a worker exodus into larger metropolitan areas offering long-term work on big infrastructure projects.
This very aptly shows why relationships between regional construction firms and their specialist recruiters like ourselves are crucial in such unpredictable times to prevent delays in projects and the ensuing consequences of that.
The smarter firms will be ready by having well qualified and referenced labour quickly on tap from their recruitment partners as it will be crucial to meeting the tough challenges firms will face in 2022 and beyond."
Let us find you qualified workers